New Alfa Laval Twin Screw Pump: Top Features and Functions
March 18, 2019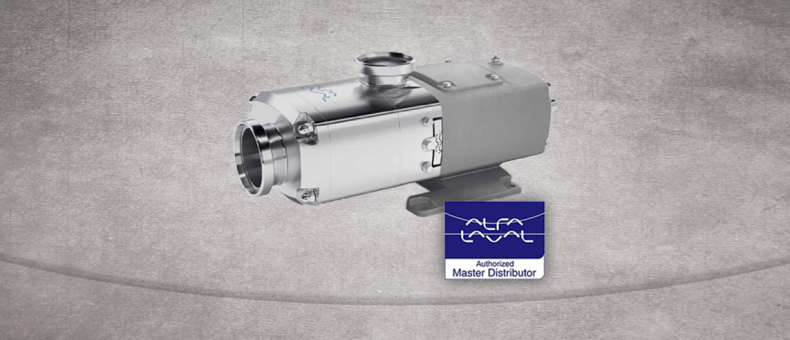 Envision yourself cruising down the highway in a brand-new sports car on a moonlit summer night. Next, picture yourself behind the wheel of a powerful snow plow on a blustery winter day. Both of these vehicles are excellent when used in specific conditions and for distinct purposes.
But what if a single piece of machinery could combine both rugged durability and smooth, agile productivity? As fate would have it, this type of versatility and precision actually exists, and it is embodied by the new Alfa Laval Twin Screw Pump.
Top Features and Functions:
What all can the versatile Twin Screw Pump do? Take a closer look at a few of its stand-out capabilities and learn why many food/beverage producers are buzzing about it.
The Flexibility of Twin Screw Technology
Although classified as a positive displacement pump, Alfa Laval's Twin Screw can accomplish so much more. Unlike conventional positive displacement pumps which are primarily used for thick, viscous products, the new Twin Screw by Alfa Laval also has the ability to propel thin material like a centrifugal pump.
Gentle and virtually pulse-free, the Twin Screw is able to convey product through at various speeds for different viscosity liquids. This allows the pump to be utilized in a flexible manner within your production, adding significant value to producers with diverse ingredients, such as:
Breweries
Dairy Producers
Condiment Producers
Personal Care, etc.
Reliable Engineering with Maintenance in Mind
The Alfa Laval Twin Screw Pump is finely crafted with a hygienic, stainless-steel frame, profiled elastomers, and mechanical seals. Utilizing a robust gearbox design, the pump is calibrated to operate quietly, efficiently, and at a reduced temperature to enhance safety.
There are also very few wear items on the pump. Alfa Laval's Twin Screw has the ability to run for a very long time and requires very little maintenance.
When maintenance is needed, there are plenty of reasons to appreciate this pump. Alfa Laval's diligent design provides true front-loading access to the pump's seal and timing gears for easy servicing.
Additional Product Specifications:
Nine (9) models available based on three (3) frame sizes
Direct coupled motor (4, 6, or 8 poles)
Gear motor (4 poles)
Single flush/double mechanical seal options available
Max inlet pressure (16 bar)
Max discharge pressure (16 bar)
Operational Safety & Certified Excellence Worldwide
Whether your production is global or exists solely within the United States, the Twin Screw Pump by Alfa Laval is both 3-A and EHEDG approved.
By introducing this clean, sanitary pump, ensuring your product quality and protecting against liability has never been simpler, freeing you up to execute your production process to its fullest extent.
"The best part about this pump is that it can do so many different things. It can be used in multiple places at your processing plant and perform multiple functions in the same spot.

The Alfa Laval Twin Screw pump is often utilized for Clean-in-place (CIP), since its adjustable speed and volume can pump thin CIP solution up to 3300 RPM.

It really is the best of both worlds for the food/beverage industry." – Eric Behling, Outside Sales Manager at Stuart W. Johnson & Co., Inc.
Interested in the Alfa Laval Twin Screw Pump? Would You Like More Details?
There are many advantages to introducing Twin Screw Pumps into your production processes. The main three being:
Process Flexibility
Reliability & Ease of Service
Operational Safety
If you're interested in learning more about how this pump could help your process become more efficient and productive, feel free to reach out to one of our food/beverage product experts.
As one of only a small number of distributors, our product knowledge at Stuart W. Johnson & Co, Inc. is truly industry-leading. Simply contact us online today or give us a call at 800-558-5904 to learn more.